Last night I discovered interesting website called Scoop.it .
Here is some information about it I found in this link-
http://theedublogger.com/2012/08/31/keep-your-content-fresh-with-scoop-it/
'What Can You Do With It?
Here are are some practical ideas that people have already come up with on how to put Scoop.it to good use:
I liked the very idea of the site and I liked also that I may search content about my interests and then say my insight about it.
Isn't it awesome?
So here it is how it looks. This is my first scoop in my profile. I searched some ttopics for bookbinding and I stumbled upon this great quote and then I wrote down my insight about the topic..Enjoy reading!
Scoop->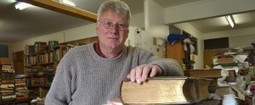 In an age of Kindles, tablets and iPads, there is something wonderfully romantic about binding, preserving and restoring old books. Murray Simper is in the same league as cobblers, tailors, botanical artists, knife-sharpeners …
Hristo Hvoynev's insight:
I am Hristo from Bulgaria, I am an artist and a crafter.
I was amazed  and thrown into  hilarity by this quote of  Bluestone Magazine.
I love the feeling of binding a journal-a blank book, a book to be someone's journal, a book made with my hands, made with love, knowing this paper will be filled with thousands of words or hundreds of drawings or sketches…;)))
Bookbinding has some very Zen feeling, strong spiritual experiance of as if making something for hundreds of years to pass. The feeling of binding, towards the end of the process, is like you know that the book will last thousands of years….
This feeling is hard to describe… '
I hope this article was fun and informative for you!
Wish you great night and Happy Incoming Holidays!
Hristo